Welcome to United Online!
As the Coronavirus continues to spread throughout our area, we hope that you are staying safe. We hope you know that we miss you and we love you. On this page, you will find information regarding the steps we are taking to help you and your family feel connected at United while we are unable to connect in person.
In an effort to keep everyone safe, and to adhere to the recommendations of the CDC and the mandates by our local government, United will continue to host our Worship Services online via our YouTube channel.
You are invited to join us for ONLINE WORSHIP on Sunday mornings at 10:30am throughout the month of April on our United YouTube Channel:
--------> Click the button below to go to our YouTube channel! Be sure to click on the red "Subscribe" button - this ensures you will receive notifications anytime we are about to broadcast our Online Worship.
Scroll down to see our Re-Gathering plan!
United Kids Online!
We are working hard to provide at-home worship opportunities for your kids during this Coronavirus situation and social distancing that is keeping us at home.
Below is a button that will direct you to a special page just for kids about how they can engage in worship at home, too! There is a special message to your kids from Jennifer Mahaley as well as kid-friendly activities for your kids! This page will be updated each week with a new lesson for your kids!
United's Re-Gathering Plan!
Drum-roll please!
We have decided to Re-Gather for in-person services on July 19th!!!


While we are excited to begin thinking about getting back together, we are realizing that HOW we re-gather is more important than WHEN. Here are some of our Big Picture goals and motivations for us:
#1 - Our Goal:
Our goal is not just to re-gather as soon as possible. Our goal is not just to provide safe environments in which to worship and serve. Our goal is to continue embracing God's mission to make disciples, and to do it SAFELY & EFFECTIVELY. United's leadership believes it is important to regather when we can be both safe and effective in regathering.


#2 - SAFE & EFFECTIVE means . . .
Safe Spaces - safe, clean, sanitized areas in which to worship and gather; United has invested in commercial quality Sanitizing Stations, hand sanitizer, and masks to provide as safe a gathering as possible - the arrival of these items will not be until early July
Safe People - trained volunteers and staff serving everyone in a safe manner and by offering additional safety measures
Safe Procedures - intentional procedures such as sanitizing spaces, surfaces, equipment, and hands; physically distanced seating and traffic flow; providing sanitizing stations & masks; temperature checks of all staff and volunteers for Phase 2
Effective Ministry in Pursuing our Mission as a Church - Able to host an inspiring worship services, meaningful discipleship opportunities, and welcoming in-person environments for first-time guests, both ONSITE and ONLINE
#3 - Re-gathering in Phases (See Chart Below)
Operating within the guidelines of State and Local officials, we have a phased approach that allows United to be both SAFE and EFFECTIVE without feeing obligated to an all-or-nothing approach
PHASE 1 = Begins June 1st! - Facility Re-opened for smaller groups and outside gatherings!
PHASE 2 = Begins Sunday, July 19th! - Large group worship gatherings resume in Worship Center, with precautions such as physically distanced seating, intentional traffic flow, sanitizing stations, classrooms remaining closed, no coffee area
PHASE 3 = Will begin Full Ministry Schedule with some long-term precautions as a "new normal"
For the most detailed breakdown of each phase, please see the chart attached to this email. Also, just a reminder that these dates may change based on the Covid-19 conditions on the ground.


#4 - United Kids Ministry
Cleaning, sanitizing kids spaces & toys each week
Sanitizing stations for Kids Wing – hand sanitizer and wipes available
Updated Check-In procedures
Communicating clearly and often with parents on new precautions/procedures


#5 - Serving & Reaching Our Community
Being prepared to host first time guests in our facility in a SAFE and EFFECTIVE manner, alleviating their safety concerns and anxieties
Working to provide a quality, consistent Online Worship experience for people to "visit" and attend our church Online
Striving to be a Good Neighbor by determining needs in United's surrounding neighborhood: Fire Dept; Grier Elementary; University Hospital; University City Family Zone


#6 - All Hands on Deck to Prepare for Re-gathering!
We have MUCH work to do to be ready to reopen United's facility in a safe and effective way!
We need as many willing hands as possible to band together to pull this off - come out and help prepare United to host our community by being a part of our Work Days!
2 "WORK DAYS" planned + A Backup Date:
Saturday, June 13th, 9am-12noon - Everyone invited; inside & outside projects
- A list of projects will be made available to everyone who are interested in tackling projects during the day/week!
BACKUP DATE: Saturday, June 27th, 9am-12noon - Everyone invited; inside & outside projects
Keep reading for the really fun stuff!
We have a lot of really fun events planned before now and July 19th! There is a graphic below detailing the events we have planned! Come join us, if you are able and feel comfortable! Masks and hand sanitizer are welcome!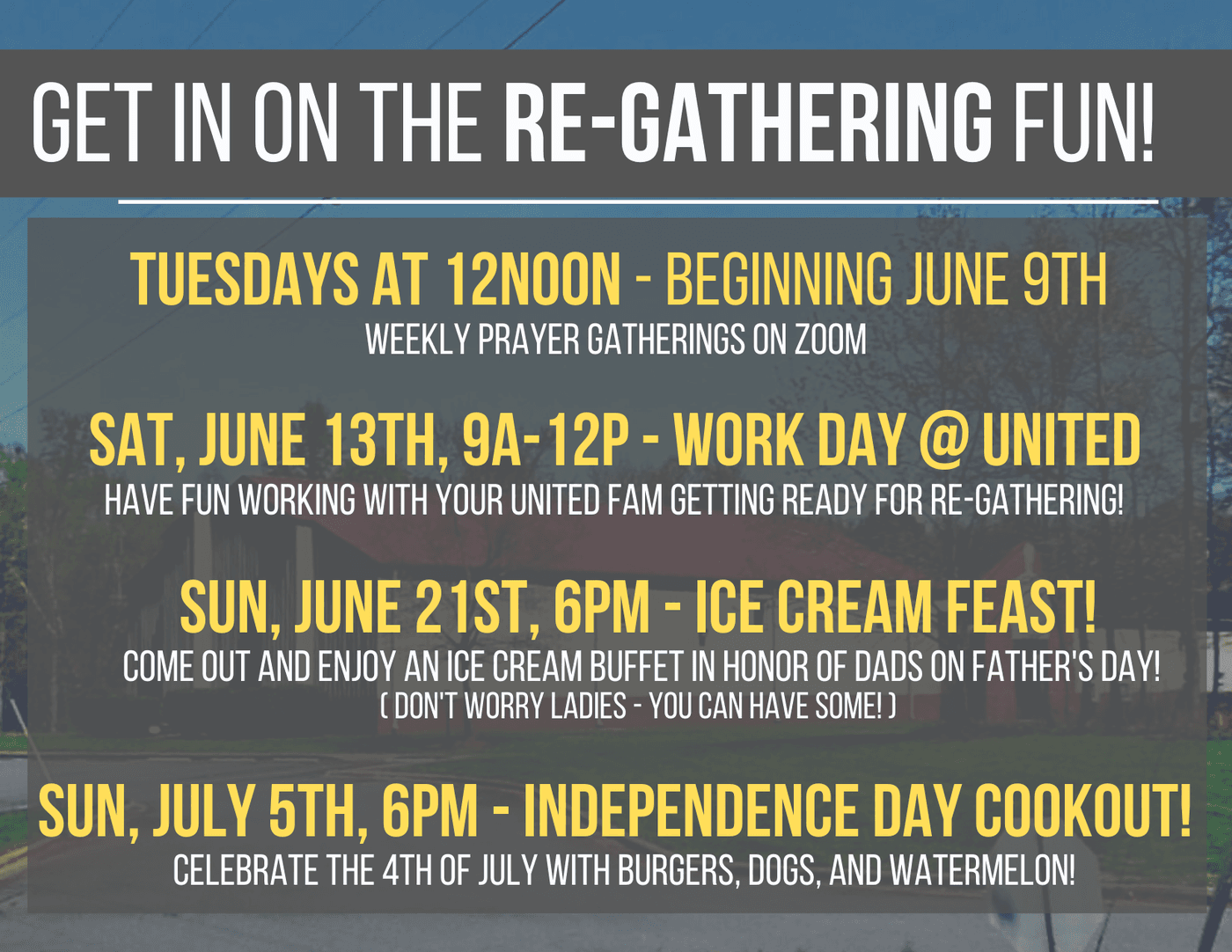 How to give financially to United:
For most of us, we rely on the "Offering moment" when we gather onsite in order to give our tithes & offerings. You giving MATTERS more than ever during a time like this. Here are the 3 best ways to give your tithes & offerings over the next few weeks:
------> GIVE ONLINE on our website - it's easy! CLICK HERE TO VISIT OUR GIVING PAGE.
------> GIVE BY MAIL: (no cash) to United at: 2601 Rocky River Rd, Charlotte, NC 28213
------> GIVE THROUGH BILL PAY: You can also give by sending your offering through your bank's "Bill-Pay" feature --- one-time gifts or automatically-recurring gifts can be set up through this feature!
United is here for you! How can we help?
We know that this time can be difficult for many. If you, or someone you know, needs assistance during this time, please fill out the form below.
If you are interested and willing to assist those in our church and community, click the button below. If you would like to be a prayer partner at United, visit the Prayer Request page!